Savas apjomīgās un arhitektoniski izteiksmīgās būves dēļ nozīmīgākā celtne Varakļānos vēl arvien ir Svētās Jaunavas Marijas Debesīs uzņemšanas godam celtā Romas katoļu baznīca. To projektējis arhitekts Macoti, un tās pamati vienlaikus ar muižas pili arhitekta vadībā iemūrēti 1783. gadā. To varētu iztulkot kā Borha centienus gādāt arī par tautas garīgajām vajadzībām, bet varbūt tiklab par arhitekta gribu vairāk nodrošināt dievnama būves nākotni. Vienlaicīgi tik vērienīgai būvniecībai nebija arī līdzekļu. Baznīca turpināta celt krietni vēlāk stipri samazinātos izmēros un ar citām nepilnībām.
Pārvarot šīs grūtības, kā arī postījumus un ērģeļu zudumu pēdējā karā, dievnams saglābts un sasniedzis mūsdienas sākotnējā godībā. Laiks tomēr atsājis dažas zīmīgas pēdas celtnes vēsturē. Trīsdesmitajos gados baznīca izveidota Lurdas Kapela – apkurināma telpa dievkalpojumu vadīšanai ziemā. Savukārt gadus trīsdesmit vēlāk vienā no torņiem ierīkota telpa – slēpnis, jo sakristejā dzīvojošam baznīckungam nereti naktīs bija jāpieredz ielaušanās mēģinājumi. Vācu okupācijas laikā no torņiem noņēma zvanus, lai nogādātus tos pārkausēšanai. Dažas nedēļas tie gulēja zemē pie durvīm, līdz draudze saziedoja krāsainā metāla daudzumu, kas ļāva zvanus paturēt. Pēckara remontu laikā blakus vietējo garīdznieku neatlaidīgam darbam dzimtās baznīcas sakārtošanā un izdaiļošanā talkā nācis bīskaps Pēteris Strods.
Baznīcā saskaņā ar iecerētās nākotnes pilsētas plānu atradās tieši vecās kapsētas vietā. Lai netraucētu sentēvu kaulu mieru, tai pāri ticis uzbērts zemes slānis. Biezā uzbēruma kārta ļāva izvairīties no kapu pārliekas izrakņāšanas, reizē veidojot paaugstinājumu celtnei, tādēļ skatītājam šķiet, ka tā atrodas kalnā.
Par baznīcas celtniecību pirmskara paaudze varēja dzirdēt savu vecvecāku stāstījumu: būvdarbos vīrieši bijuši pie mūrēšanas, sievietes piegādājušus ķieģeļus. Pamatos bija izbrīns un neizpratne, kādēļ iebūvētie pamati nojaukti un to vietā rakti citi. Zināja stāstīt arī par labāko mūrnieku, kam uzticēts nostiprināt krustus torņu galos , ko tas svētsvinīgi izdarījis ar baltiem cimdiem rokās, kā pēc vietējā ieraduma dara, uzliekot vainagot līgavai pirms došanās laulībā. Vēl leģenda vestī, ka drīz pēc tam meistars aizsaukts aizsaulē. Lai nostiprinātu apmetuma pamatu, izmantotas niedres, kas vāktas Malmutes līčos.
Pēc senas tradīcijas baznīcām galvenā fasāde bijusi pavērsta pret ļaužu pulcēšanās vietu – tirgus laukumu. Arhitekts Macoti šo ieradumu neievērojis, nošķirot nozīmīgāko celtnes ieeju no tirgus drūzmas. Tuvošanās baznīcas ansamblim sākas ar pacelšanos pa platām un augstām kāpnēm no ielas līmeņa uz laukumu baznīcas priekšā, tikai tad seko ieejas kāpnes, kas caur dižām portika kolonnām ved svētnīcā.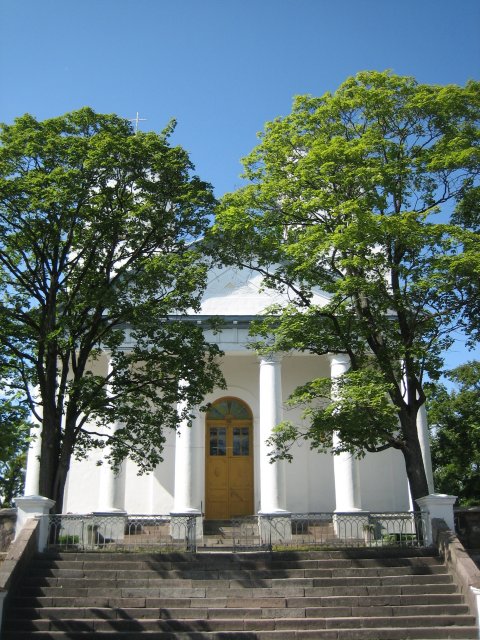 Plašajā telpā (garums 42 m, platums 28 m, augtums 10 m) pārsteidz bagātīgā gaismas plūsma no lielajiem, baznīcām neparasti zemu izvietotajiem logiem. Griestu daļas izgaismošanai paredzēti mazāki lunetveida logi sienas augšpusē. Tuvojoties altārim, telpa nedaudz paplašināta ar it kā šķērsojamo izbūvi. Šāda šķietama telpas atvēršanas kāpina apmeklētāju emocionālo pārdzīvojumu. Varakļānu dievnama plašumu un gaismas pārpilnību daudzina tie svētceļnieki, kas atlaidu dienās apceļojuši tuvas un pavisam tālas svētnīcas.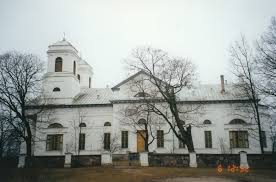 Baznīcu rotā trīs, lielākoties krāsaina Itālijas marmora apdarē veidoti, altāri ar lielām svētbildēm. Centrā 17. gs. Spāņu mākslinieka Muriljo gleznas "Bezvainīgā Jaunavas Marijas Ieņemšana" kopija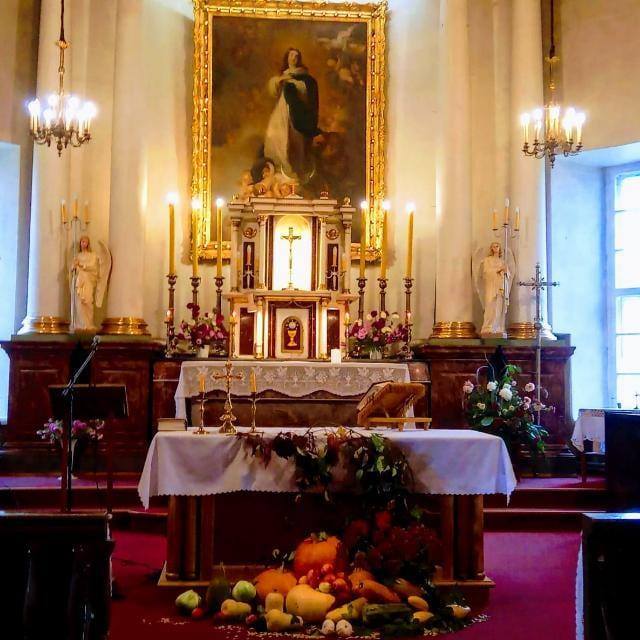 labās puses altārī – Golgātas motīvs.
Kreisās puses altāri grezno grāfa Mihaela Borha svētā aizbildņa erceņģeļa Miķeļa atveids (Rafaela greznas kopija).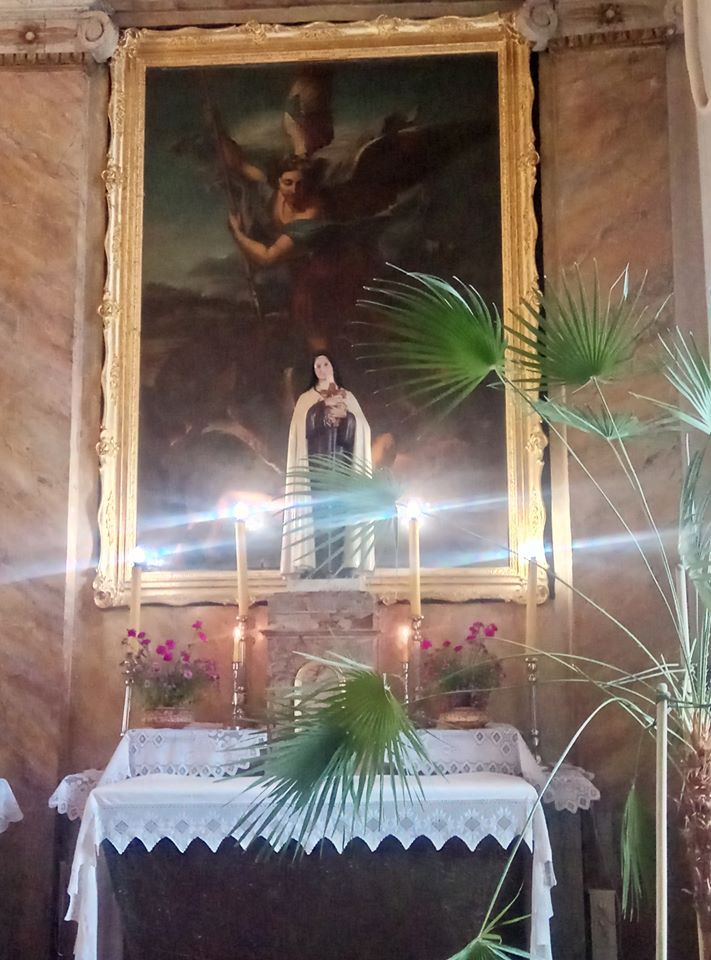 Iespējams, ka altāŗgleznas iegūtas Viļņā, kur klosteru darbnīcās strādāja atzīti meistari, kas izpildīja baznīcu pasūtījumus.
Labajā stūrī no ieejas puses ir Lurdas Dievmātes kapela un Svētā Viktora relikvijas.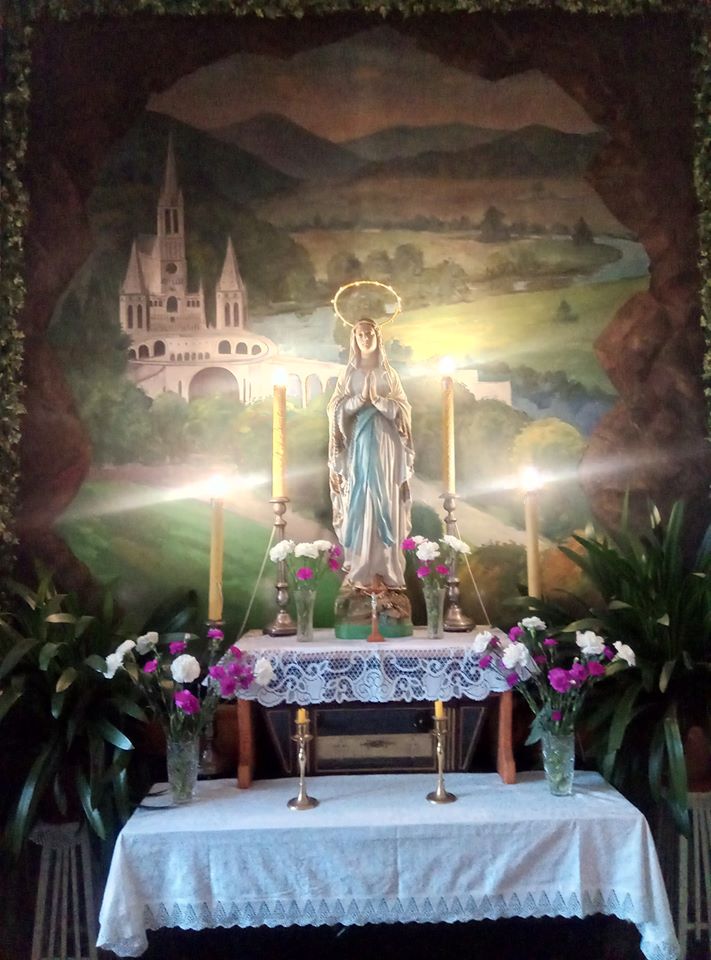 Vēl baznīcā atrodami divi mākslinieka Griškjana gleznojumi, kuros attēlota Svētā Ģimene

Izmantota informācija no grāmatas ''Varakļāni un varakļānieši''